Continued from Goa trip
Oops it's been a while
On returning to the campus I was too tired and slept without planning for anything but the tatkal ticket back to
Mumbai
!
Got up just in time for the tatkal bookings but I have always been lucky with my bad luck!!
So with nothing to do, we booked tickets for
Gokarna
and left campus in no time to reach
Karmali
station to catch our train for
Gokarna
.
Well not all things go the way you have planned, on reaching the station we discovered the train for which we had booked our ticket was never going to reach Karmali station and the journey was from
Madgaon
station instead which is like an hour away!
Yes..we were screwed!
Finally we managed to change trains and were on a train that did not have a scheduled stop at
Gokarna
but would stop 15 kms past
Gokarna
. As luck would have it the train started getting late which proved to be a boon as it made an unscheduled stop at
Gokarna
! :D Finally something to cheer about..
Oh yea the train journey was beautiful as it passed through the
Konkan
range, a sight definitely worth experiencing.
So we had made it to
Kudle
beach approx 4 hours later than desired, it was dark by the time we got there and the only thing we could spot on the beach were dimly lit food joints and high people.
Neither of us had checked what to do in
Gokarna
and apparently there was no internet connection on cell phones there, which made us feel like banging our head. So we had landed in hippie land with absolutely no idea of what to do or what was it famous for. However it did not take us long to identify the reggae music being played on every goddamn device and the heavy following of Bob Marley and the things he was
in
famous for i.e., weed!
So there we were in a tiny beach village of
Karnataka
where foreign tourists were much more than local ones and the main boost to local economy was beer and weed! I was flabbergasted by the sheer usage of the two items specially the latter one "publicly"!
So people roaming around the beautiful
Kudle
beach were HIGHer than heaven, nevertheless it was fun watching them trying to balance themselves while helping others! A memorable night it was.
We started the search of a hut/room by inquiring at different restaurants soon we learnt our luck was still nowhere in sight and that all accommodations were full for the night!!
We settled down at a food joint where the guy took an hour to serve, finally around 11 we were mentally prepared to sleep on the beach <3 but we had thought of checking accommodation at
Om
beach before retiring for the day. Off we were at 11 in the night on a 20 minute night trek with the path being lightened by the torch of our barely charged phones.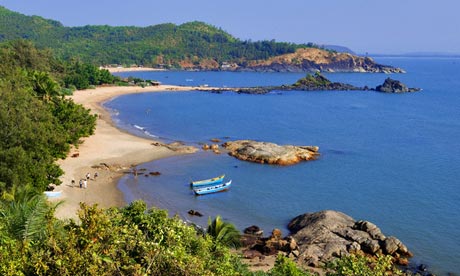 Surprised yet again by the solitude on the famous beach, we had a short halt there before making our way back to the populace
Kudle
beach. It took me a while to convince J to go back to
Kudle
, told him about my SCUBA experience on the way after which he has vowed to do it, soon.
SCUBA experience post coming soon.
And after the return trek we reached
Kudle
and after a heated discussion found a place to sleep for the night. Low on planning as we were, we had no sleeping bag and no sheet to spread or cover ourselves.
The stars were countless and beautiful, I stared for over an hour before sleeping, saw a shooting star as well all accompanied by the sounds of powerful waves crashing on the beach.
Woken up by the rooster crowing after a chilling night, I woke J up. He said we had got visitors at night, those with 4 legs and they were sniffing around, yes stray dogs.
The experience of sleeping on the beach was absolutely worth it..! Must do at least once, I insist.
As the rays of the sun began hitting the blue water far off in the sea we started jogging on the beach to get rid of the cold.
Had some breakfast at a restaurant and met a couple of people who were still on cloud 9!
We had to catch a train late morning hence couldn't get a lot of time to explore the place and realized on returning that we had missed the famous
Gokarna
beach.
That was all from my unplanned
Goa
trip with J. Have promised a few more and looking forward to it with him.
Keep your emotions flowing with comments